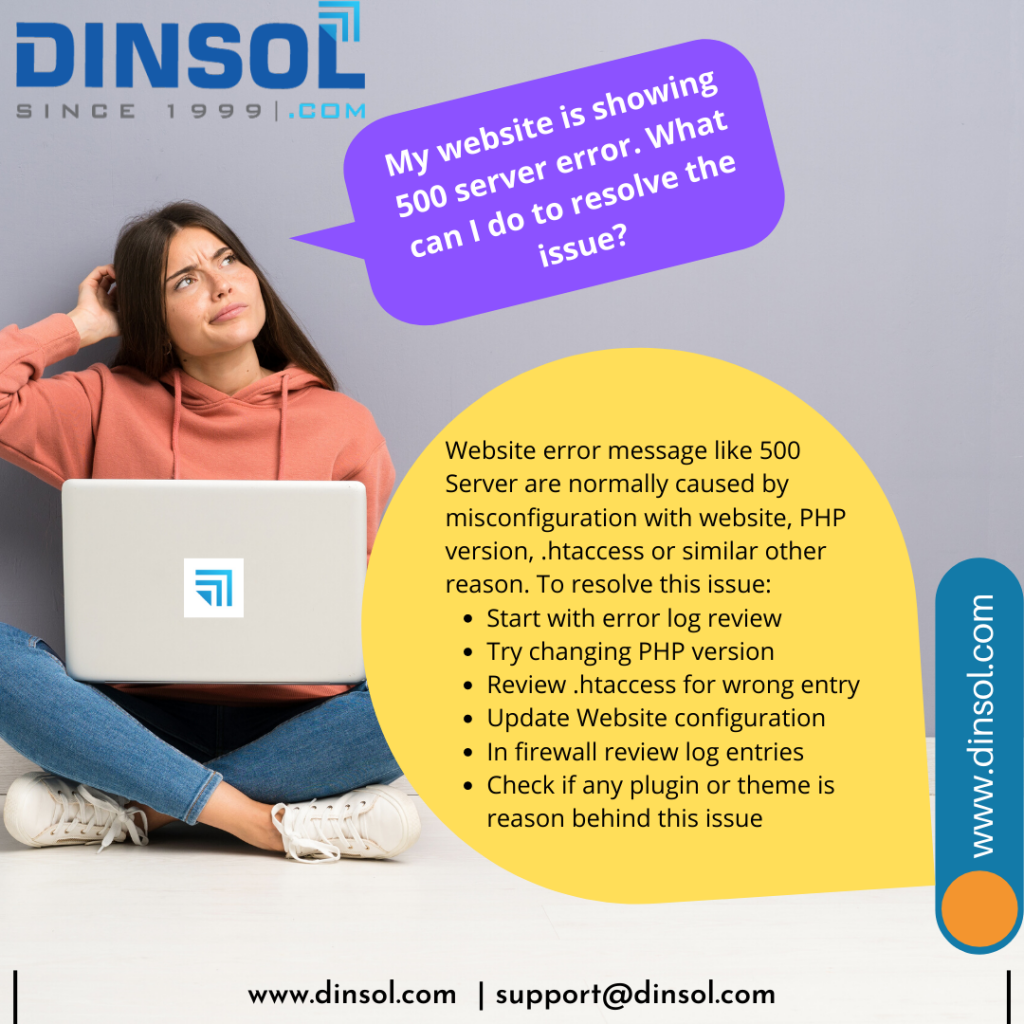 Website error message like 500 Server are normally caused by misconfiguration with website, PHP version, .htaccess or similar other reason. To resolve this issue:
Start with error log review – cPanel, Plesk, InterWorx and Other Similar Control Panel Provides Option to Review the Error Log of the Website. Otherwise, the Error Log can be Viewed through Web Server using Command Line.
Try changing PHP version – If you are using Dynamic Website built on PHP for example WordPress, there could be chance that the old PHP version is causing the Website Showing 500 Server Error as the Core of WordPress or any dependent Theme or Plugin require the latest PHP version to work properly. You will get PHP version switching option easily within the cPanel, Plesk and InterWorx control panel or can ask your Web Hosting provider to switch it for you.
Review .htaccess for wrong entry – Misconfiguration or wrong entry in .htaccess file is also a major reason for the Website Showing 500 Server Error issue. Try renaming your .htaccess file to 1.htaccess and then access your Website. If it work well, you can later try commenting the entries in .htaccess file one by one and troubleshoot exactly which entry is causing the issue. Update, correct or remove that entry to resolve the 500 Internal Server Error.
Update Website configuration – Try upgrading your Website configuration files if the problem is still there. Normally config.php or similar files are setup by CMS and Dynamic applications like WordPress, Joomla, Magento. These files are required to be placed with correct User and Directory Permissions in Linux (CentOS, Ubuntu, Cloud Linux, Fedora and other Linux OS)
In firewall review log entries – If your Website Showing 500 Server Error are still not able to figure out the issue, try checking the Web Server firewall Logs for such entries of the issue.
Check if any plugin or theme is reason behind this issue – You can also review the dependent Plugin and Theme of your CMS, like WordPress to resolve the issue.
Dinsol Global Provides Affordable Web Hosting on Cloud Servers with InterWorx Control Panel with Budget Plan started at just US$ 29.99 Yearly.
Start using InterWorx & Save BIG by opting Dinsol Global Services & Support Now!

| https://dinsol.com
| https://twitter.com/dinsol
| https://www.instagram.com/dinsolglobal/
| https://www.facebook.com/dinsolcom/
The Website Showing 500 Server Error is a very general HTTP status code that means something has gone wrong on the web site's server but the server could not be more specific on what the exact problem is.
When the Website Showing 500 Server Error – The 500 internal server error runs on every page of your site when there's a problem with the server or file system that's powering your site. The error can occur on Static (HTML, HTML 5) and Dynamic (PHP, WordPress, CGI, Perl) Website. The cause most likely occurs in the root directory of the Website (for example in public_html of cPanel and httpdocs of Plesk control panel), where your WordPress files are, but it can also be caused by a problem on your Web Hosting Server including Virtual Private Server (VPS) and Dedicated Server.
Website Server Issue Help – Where does the 500 Server Error problem lie and how to fix it? Does my website visitors only seeing the 500 server error? This might help you find the source of the error very quickly. The Website Server 500 Error message appears whenever a Web Server (Apache, IIS, Cloud Linux) can't display the website that the user is trying to access.
The Website 500 Internal Server Error in general is a catch-all error message. Causes for a Website Showing 500 Server Error to display in a web browser. Web Servers are designed to show Server Error message to be displayed instead of your website in case of issues. Above are the Step by step troubleshooting guide on how to fix the internal server error in WordPress & other CMS. You can learn how to troubleshoot a WordPress internal server error by following the steps as these are not specific one.
You can also contact Dinsol Global support to troubleshoot Website Showing 500 Server Error for you. If you are our customer, we will do it at no cost to you. In case you wish to switch to us, we will guide and migrate your account with most of our premium plans.
web, hosting, webhosting, websitehosting, website, advertisement, ssl, domain, servers, sharedhosting, virtualwebhosting, smallbusiness, technical, support, websecurity, dedicatedhosting, dedicatedserver, trafficwebsites, websites, cloudhosting, cloudservers, virtualhosting, vps, virtualnetwork, blogger, webservices, designers, designer, onlinebusiness, websitedesign